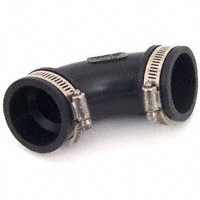 Part Number: 6327712
To remove existing elbow or tee, cut pipe at joints. Slip pipe into fitting socket. Securely tighten stainless steel bands (60 inch/pounds torque). Support pipe on all sides of connection to keep weight off fittings. Test for leaks before concealing. NOTE: Not recommended for underground connections. For drain waste and vent use only. In-wall pipe should be supported. Do not use in pressure applications. Tee and elbows adapt to other pipe sizes with Qwik Bushings.
WARNING: This product contains chemicals known to the State of California to cause cancer and birth defects or other reproductive harm. Click here for more information.