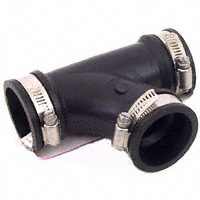 Part Number: 6327530
Allows for alteration or replacement of drain waste or vent fittings. Each fitting supplied with series 300 stainless steel clamps. Fits all common household pipes including cast iron, plastic, copper and lead. Exceptionally flexible and extra long. Ideal for replacement for fittings cut out at the joint during alteration or repair. NOTE: Not recommended for underground connections. For drain waste and vent use only. In-wall pipe should be supported. Do not use in pressure applications. Tee and elbows adapt to other pipe sizes with Qwik Bushings.
WARNING: This product contains chemicals known to the State of California to cause cancer and birth defects or other reproductive harm. Click here for more information.