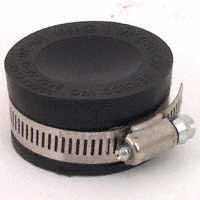 Part Number: 6782486
Easy way to cap pipe ends, clean-outs and open test pipes. Made of flexible PVC, they're suitable for above ground or underground use, on cast iron, steel, copper or plastic piping. Designed to fit all drain, waste, and vent pipe materials in a given nominal size. The convex face allows the cap to withstand greater pressure for testing purposes and minimizes ballooning. To install, simply place over open end of pipe and tighten to 60" pounds torque.
WARNING: This product contains chemicals known to the State of California to cause cancer and birth defects or other reproductive harm. Click here for more information.