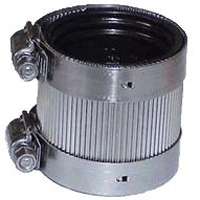 Part Number: 6317994
AISI 304 stainless steel shield. AISI stainless steel clamps and screw housing. Full size 9/16" wide bands and one piece screw housings are mechanically interlocked for strength. The wide clamp band provides enhanced sealing force. Unique beaded neoprene gasket grips with superior holding and sealing power. Gasket conforms to ASTM C 564. ASTM C 1277.
WARNING: This product contains chemicals known to the State of California to cause cancer and birth defects or other reproductive harm. Click here for more information.