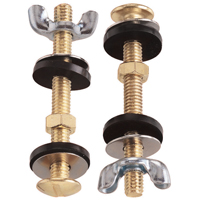 TANK TO BOWL BOLTS 5/16" X 3"
Part Number: 1125558
5/16" - 18 x 3" steel washers, hex nuts, wing nuts and rubber washers.
WARNING: This product contains chemicals known to the State of California to cause cancer and birth defects or other reproductive harm. Click here for more information.